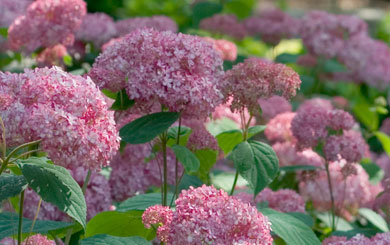 Tis' the season for giving, as is apparent by the pleas that appear in our mailboxes from worthwhile charities this time of year. Gardeners can get in on the giving in their own special way by purchasing plants that support a cause.
There have been some very successful campaigns to raise money for different causes by selling plants that are appealing to gardeners and carry a message of hope and inspiration.
Remember Your Loved Ones
'Hosta Remember Me' is a plant that was bred as "June" for Walters Gardens of Zeeland, MI. They renamed it in honor of one of their co-workers, Sandy de Boer, who succumbed to breast cancer in 2001. The folks at Walters Gardens have since raised over $60,000 to give to the Grand Rapids affiliate of the Susan G. Komen for the Cure organization by donating a portion of the sales of this beautiful plant.
"We are proud to support this cause in the name of Sandy and countless others whose lives have been affected by breast cancer," says Susan Martin, director of Marketing communications at Walters Gardens, Inc.
If a plant could talk, I think 'Hosta Remember Me' would speak of hope and inspiration. The spring leaves emerge in a bright yellow with a narrow, dusty-green edge. By summer they turn a pure white, signaling peace and hope. Like most hostas,this variety is hardy throughout the state. To find it at a garden center near you, visit perennialresource.com and enter the plant name into their plant locator.
Susan G. Komen For The Cure (visit komen.org) was founded in 1982 by Nancy Brinker in honor of her sister, who died of breast cancer at the age of 36.
Pink in the Garden
If you're a hockey fan you may have heard of "Pink in the Rink," a hockey fundraiser for cancer research and awareness. There's also "Pink in the Garden," thanks to the Proven Winners company and their introduction of Invincibelle® Spirit Smooth Hydrangea. Sales of the Invincibelle Spirit has not only raised cancer awareness, but over $645,500. Of each plant sold, $1 is donated to the Breast Cancer
Research Foundation. Sales of this popular plant and the corresponding Pink Day Fundraisers hosted at garden centers across North America, have helped Proven Winners raise 65 percent of their goal of $1 million for cancer research.
This is the first pink hydrangea of its kind, according to Proven Winners. It will start flowering in early summer and continue blooming into fall. Like 'Remember Me Hosta,' Invincibelle Spirit is not only beautiful, but hardy even in the Upper Peninsula, which is better known for snowmobiling than lovely gardens!
Honor Our Heroes
Another fundraising campaign initiated by Walters Gardens benefits the troops that so courageously defend our country. For each Hosta "American Hero" sold, the company donates 25 cents to Project EverGreen, a national nonprofit organization and creator of the GreenCare for Troops program. To date, Walters Gardens has donated over $4,500 to the program, and the fundraising continues.
The GreenCare for Troops program (visit projectevergreen.org) offers military families assistance in sprucing up their yards by providing landscaping services while their loved ones are off serving their country. Thus far, over 9,000 military families have been connected with over 2,400 volunteers.
Like the heroes they honor, hostas are tough hombres, and the 'American Hero' variety is no exception. This particular hosta has bold variegation that will light up your garden and thick, durable foliage that looks great all summer while you honor the people that serve our country.
Perhaps this holiday season you can buy a gift card to a garden center near you that carries these beautiful plants, or keep them in mind when you're planning ahead for the next growing season.
– Neil Moran