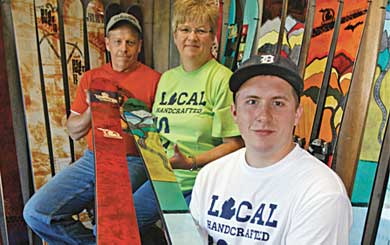 Like most kids, Jeff and Jonathon Thompson loved taking things apart and putting them back together, never thinking that their inquisitiveness might lead to a new family business.
They were teenagers when they first built a surfboard with the help of their dad, John. That winter, Jeff wanted to build a "ski bike" by cutting apart an old pair of Dynastar skis to attach to a bike frame. Noticing how they were built in layers, the boys decided to build a pair of skis, too.
That was 2005, and that first pair of skis was not a successful start.
"We built them in a barn that was about 40 degrees, and discovered that it needs to be warmer for skis to cure in a press. My brother brought them to the U.P. for a race that winter right after they were made, and they de-laminated before we got them on the slopes," laughs Jeff.
Previously, the family had a successful construction business, building as many as 300 homes in some years before the economic downturn. "We had vacationed in the Boyne City area for years, and as the ski business started picking up and the building business slowing down, we decided to make the move from South Lyon, where we had lived for years," John adds.
Fast forward to 2013, and you find what started as a hobby is now a full-time business called Shaggy's Copper Country Skis.
"This year we will probably make around 200 pairs of skis," John notes proudly. "We've produced over 1,000 skis since that first mistake."
The Shaggy's company is staffed by Jeff, John and wife Shari, who does the bookkeeping, ordering materials and sales. Brother Jonathon has moved to Colorado in another line of business. John and Shari have been married for nearly 35 years.
"One of the reasons we chose to move up here, in addition to having wonderful testing facilities in nearby Boyne Mountain and Nubs Nob, is that the heart of our ski – ash and beech wood – is milled just down the road at Metalski Lumber," John explains.
Each ski takes eight to 10 hours to construct and fine-tune before it's ready to sell. The company offers 10 different pairs of skis, ranging from $595 to around $795.
Jeff, 23, recently graduated from Michigan Tech with a mechanical engineering degree and is applying that knowledge of how a ski performs physically and geometrically to making a top ski for Midwestern and Michigan users. "Our all-mountain ski has a tighter turning radius that works well on our conditions, but it's a great ski for the mountains, too," he says. "The Tubby, one of our best-selling skis, floats well in powder and softer spring snow conditions but provides a good ride on hardpack, as well."
The Shaggy's Copper Country Skis name was Jeff's idea. Their great uncle, Shaggy Lehto, was a blacksmith who lived in the Keweenaw Peninsula and had a hobby building hand-carved skis. "He made a pair for dad's mom that's a family heirloom, and I thought, 'what a great name for the company,'" Jeff recalls. "It's uniquely Michigan."
– Mike Terrell