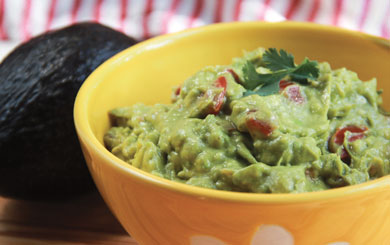 3 medium avocados (make sure they are ripe and high quality)
1/4 c. white onion, chopped
2 roma tomatoes, diced
2 T. fresh cilantro, chopped
2 garlic cloves, minced
1/2 –1 t. salt
1/2 t. cumin
juice from half a lime
juice from half a small lemon
Cut avocados in half. Remove seed. Scoop out avacado from the peel, put in a mixing bowl. Using a fork or masher, mash the avocados (not too much, it should be a little chunky). Add the chopped onion and tomatoes (if not eating right away, put the tomatoes in right before serving). Add cilantro, lime juice, lemon juice, garlic, salt, cumin and mix with a large spoon.
Refrigerate until ready to serve. Makes about 2 cups. Serve with blue tortilla chips.
Notes: Much of this should be done to taste because of the variability in fresh ingredients. Start with this recipe and adjust to your taste.
To keep the guacomole from turning brown, store in a plastic food container—but before you put the lid on, place some good plastic wrap or wax paper and press down over the surface of the mixture. And be sure to get all of the air out when putting the lid on. This works like a charm!
Christin McKamey, veggiechick.com