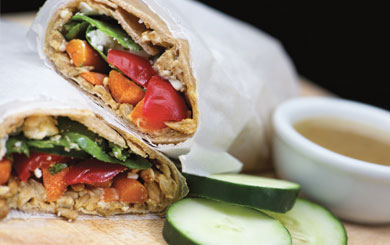 1 medium whole wheat tortilla
2 T. garlic hummus
2 T. sunflower seeds
1/2 carrot, peeled and sliced thin
1/2 c. spinach leaves
2 T. sliced pepperazzi peppers (sweet and spicy), or roasted red peppers
1/4 of large cucumber, sliced thin
2 T. feta cheese
2 T. Newman's Own® olive oil & vinegar dressing
Lay out tortilla and spread with hummus and sunflower seeds. Layer with spinach leaves, carrots, red pepper, cucumber and feta cheese. Roll up and secure with toothpicks. Dip wrap in olive oil and vinegar dressing. This is a quick, healthy meal that can be substituted with many different vegetables. Makes 1 wrap.
Christin McKamey, veggiechick.com