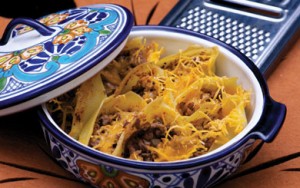 15 uncooked jumbo pasta shells
1 lb. lean ground beef
1 10-oz. can enchilada sauce
1/2 t. dried minced onion
1/4 t. dried basil
1/3 t. dried oregano
1/4 t. ground cumin
1/2 c. fat free refried beans
1 c. reduced fat cheddar cheese, shredded
Cook pasta according to package directions; drain and rinse in cold water. In a non-stick skillet, cook beef over medium heat until no longer pink; drain. Stir in enchilada sauce and seasonings; set aside. Place a rounded teaspoon of refried beans in each pasta shell, then fill with beef mixture. Place in 11 x 7 x 2-inch baking dish coated with cooking spray. Cover and bake at 350° for 25 minutes. Uncover; sprinkle with cheese. Bake 5 minutes or until cheese is melted. Makes 5 servings.
Sandy Amenson, Interlochen