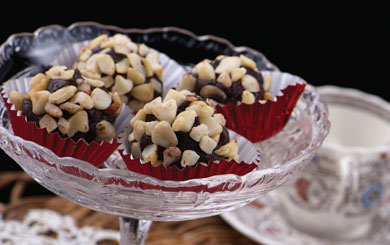 16 oz. semisweet baking chocolate
2/3 c. sweetened condensed milk
1 T. chocolate-coffee liqueur or 1 T. raspberry liqueur
1/4 t. almond extract
cocoa for dusting
chopped macadamia nuts or chopped toasted almonds
Melt chocolate in a heavy 2-quart saucepan over low heat. Remove from heat and stir in condensed milk, liqueur and almond extract. Refrigerate about 40 minutes. Dust hands with cocoa. Scoop out fudge with a teaspoon and roll into balls. Roll each ball in cocoa and then in nuts. Pack in individual paper candy cups and place in boxes or tins. Makes 36 truffles. Make great gifts. They can be made ahead and frozen until gift-giving time.
Nancy Abbott Wilson, Traverse City