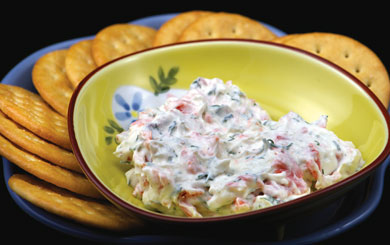 8 ozs. cream cheese, at room temperature
1/2 c. sour cream
1 T. lemon juice
1 T. fresh dill, minced
1 t. prepared horseradish, drained
1/2 t. salt
1/4 t. black pepper
1/4 lb. (4-oz.) smoked salmon, minced
Cream together cream cheese, sour cream, lemon juice, dill, horseradish, salt and pepper. Mix well. Add the smoked salmon and mix again. Chill and serve with crackers.
Bonnie Gauld, Fife Lake