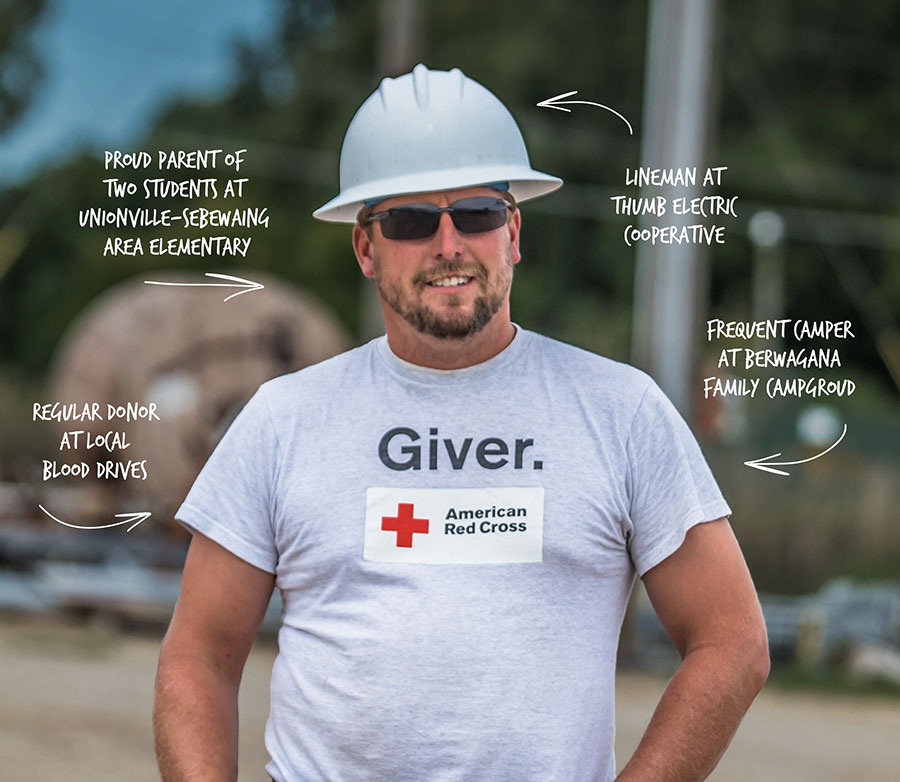 How long have you worked at TEC?
This September will be 14 years that I have worked at TEC as a journeyman lineman.
What is your favorite part about living in the Thumb area?
I love living near the Saginaw Bay and being surrounded by so much agriculture. Most of my friends and family live here, too.
What is the toughest part of your job?
The toughest part of my job is probably having to miss family events because of outage situations. When a storm takes the lights out, we've got to turn them back on right away—regardless of what the home calendar says. On the flip side, restoring power to members after an outage is my favorite part of the job.
Tell me about your family.
I am married to my wife, Christina, and we have two kids. Our son, Blake, is nine, and our daughter, Brystal, is seven. Both of them are active in sports. Brystal plays soccer and softball while Blake plays football and baseball.
What do you like to do in your free time?
I like to spend time with my friends and family. In the summer we camp and in the winter we snowmobile. I also enjoy running. I recently completed a 10K race.
So you're a runner, eh?
I suppose you could say that. I've completed several half marathons.
How did you get into running?
We have friends who had a daughter born with a congenital heart defect. They asked me to run a 5K benefit race with them in her honor. I committed to run it, but I had never run before in my life. I didn't even know how far 5K was! The training was brutal, but I made it through. And ever since I have really enjoyed running.
Do you think you'll try running a full marathon anytime soon?
Probably not anytime soon. Right now, I have too much going on to devote the time needed to run that distance without injury. To train for the half marathons, I ran an average of seven miles, four times a week. A full marathon, of course, would require more. Maybe someday!
What's the best advice you've ever received?
You can accomplish great things if you don't allow the fear of failure to stop you from starting.