By Linda McCoy, Cherryland Electric Cooperative member
Linda has lived in Northeast Indiana for all of her 79 years. She is a retired beautician and enjoys caring for families in her community.
---
On July 7, 1957, as young newlyweds, we headed north from Indiana to see the sights.
Our first stop was seven miles west of Kalkaska, Michigan into the Sand Lakes quiet area. Great-grandpa McCoy was alone now at the nicknamed "Bitzy" cabin where he and Great-grandma had spent many summers. It was a one-room log cabin with a hand pump on the porch and an outhouse out back. They fished the many area lakes. I wondered how in the 1940s did they ever find this secluded place?
We again headed north to see the great Mackinac Bridge. We marveled during the tour that took us under the bridge which had one span left to complete before joining Lower Michigan and the Upper Peninsula. 
We had little money to spend, but we took in many first-time sights, and this would be the beginning of a lifetime of Michigan adventures.
It was our home away from home.
Our three children would know Michigan, as well as their spouses and our nine grandchildren. We camped in the early years at Interlochen and Glen Arbor. We rented cottages on Little Glen and Big Glen, and years later at Lake Leelanau and Spider Lake. The Driftwood Motel was our destination for many years. We stayed in condos after the Driftwood was no more. As a family of 17, we've experienced all the amenities the Traverse City area has to offer.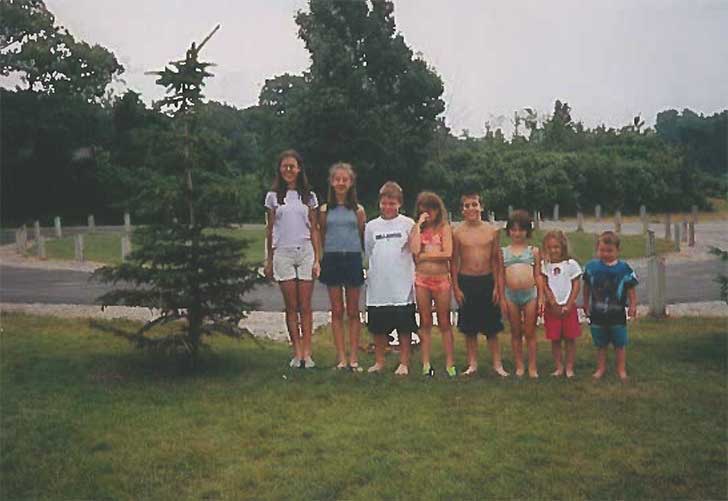 Visiting Underwood and Rennie orchards in July and mushroom hunting in the spring. Our activities included climbing the dunes, rafting down Crystal River, air shows on East Bay, Parasailing, bicycling, marching band concerts, horseback riding at Ranch Rudolph, fishing and the famous Cherry Festival parade.
The "Bitzy" cabin was torn down due to deteriorating logs and rebuilt in the '90s by the family as vacation time permitted. It is now modern, which was a significant event, complete with power from Cherryland Electric Cooperative. Five families of McCoys have an interest and still enjoy Michigan vacations.
The once-newlyweds will celebrate over 62 years of marriage in July, and our lifetime memories of happy days with family throughout Michigan bring us joy.